Zijdelingse sectionaalpoorten
Sectionaalpoort met een twist.
Deze poorten bevatten alle elementen van een klassieke sectionaalpoort.
Hierbovenop biedt de zijdelingse sectionaalpoort u nog een extra voordeel. Het is perfect mogelijk om de deur slechts gedeeltelijk te openen om alzo de doorgang verticaal volledig vrij te maken om makkeliujk doorgang te verlenen aan een persoon of een fietser.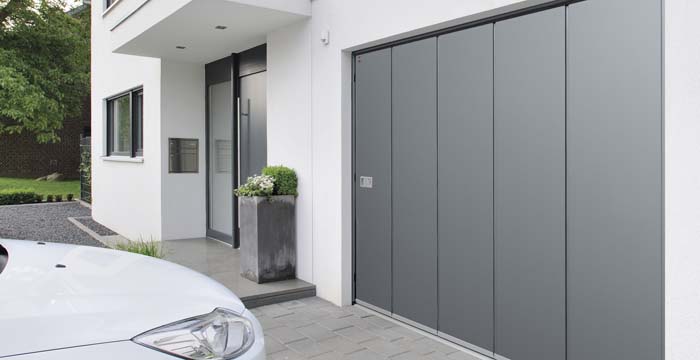 Zeer onderhoudsarm
Automatiseerbaar
Loopdeurfunctie
Optimaal beveiligd
Grote kleurenkeuze
Voor ieders budget
Gebruiksvriendelijk
Geluidsarm
Inbraakwerend
Stijlvol design
.
Toepassingen en gebruik : ​
Garages die een maximale doorrijhoogte vereisen.
Wanneer een gerieflijke personendoorgang gevraagd wordt.
waar een specifiek visueel uitzicht moet bekomen worden.
De poort voor bijzondere montagesituaties en eisen
De zijdelingse sectionaalpoort biedt veel voordelen:
Veel ruimte beschikbaar onder het plafond van de garage:
Dankzij het zijwaarts openen blijft het plafond van de garage geheel beschikbaar. U kunt hier bijv. surfboards of kano's opbergen. Dankzij de speciale constructiewijze kan de zijdelingse sectionaalpoort ook bij moeilijke montagesituaties zoals een schuin dak worden ingezet.
​
Snelle toegang tot de garage:
Bij de nieuwe zijdelingse sectionaalpoort is de zogenaamde loopdeurfunctie standaard. Of de poort nu manueel bediend of comfortabel met een aandrijving is uitgerust, u kunt de poort ook slechts een stukje openen, voor een snellere toegang tot de garage. Dit is handig en reduceert de wachttijd wanneer u bijv. slechts uw fiets uit de garage wilt halen.
Onze medewerkers helpen u graag verder met bij de keuze van een zijdelingse sectionaalpoort.