Terrasoverkapping Q.Bus
Buitengewoon, innovatief beschaduwingssysteem.
De Q.bus beantwoordt aan de hoogste eisen en past perfect bij de moderne architectuur. Het biedt tal van beschaduwingsvarianten – zij het particulier of in de commerciële sector, vrijstaand of aan een gevel gemonteerd en naar wens uitbreidbaar voor hoekoplossingen of andere vormen. De installatie wordt aangestuurd door elektromotoren – desgewenst per radiografische afstandsbediening.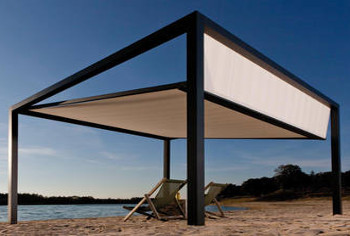 Schaduw individueel regelen.
De Q.bus heeft veel mogelijkheden wat betreft beschaduwing. Op een mooiere manier kan men zichzelf bijna niet tegen de zon beschermen. Op elegante wijze verfraait hij elk terras en zorgt met zijn rechthoekige vorm voor een optimale benutting van de ruimte. Zij het voor ligstoelen in het wellnessgedeelte, loungestoelen in de beachclub of voor de klassieke bestoeling – de Q.bus is de perfecte oplossing voor elke toepassing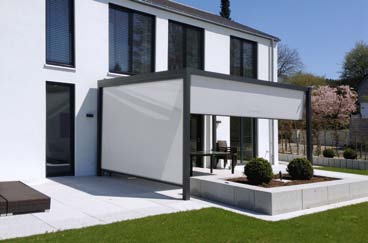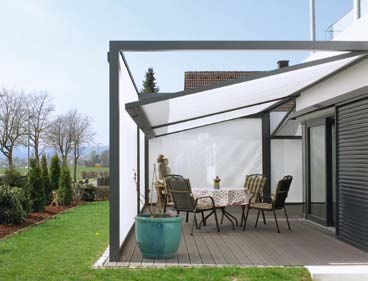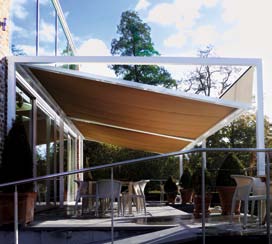 Bijna onbeperkte montagemogelijkheden.
De Q.bus is ook uniek vanwege zijn bijna onbeperkte montagemogelijkheden. Zij het als enkele installatie of in combinatie met meerdere elementen – de Q.bus past zich aan de terrassituatie ter plekke aan. Daarbij doet het er niet toe of het terras 'om de hoek' verloopt of tegen de huismuur is gemonteerd. De mogelijkheden zijn legio. De firma Van Hirtum helpt u graag bij het maken van uw keuze.