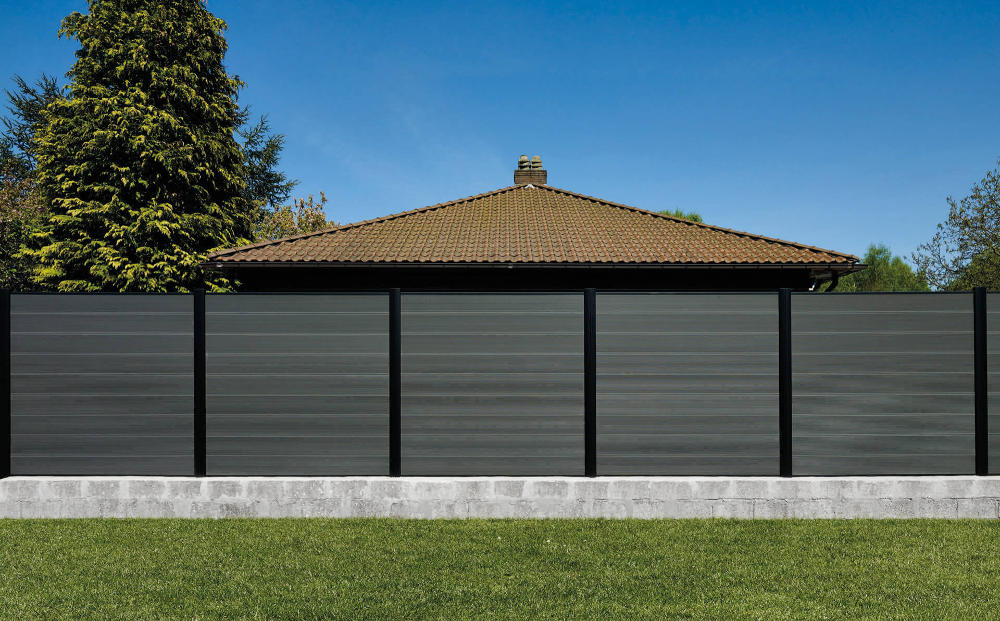 Twinson tuinschermen, het beste van twee werelden
Welkom in de wereld van Twinson, waar natuur en technologie de krachten bundelen. Twinson wordt vervaardigd uit hout en PVC. Door de voordelen van beide materialen te verenigen in één nieuw basismateriaal biedt Twinson u het beste van twee werelden: de natuurlijke look en het warme gevoel van hout, plus de onderhoudsvriendelijkheid en duurzaamheid van PVC. Twinson is 100 % recycleerbaar en vormt daarom een milieuvriendelijk alternatief voor tropisch hardhout.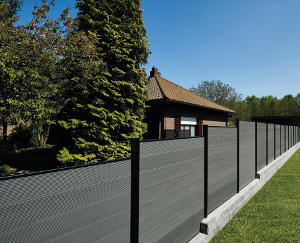 Start- en eindprofiel kunnen worden gebruikt om de afstand tussen de palen te bepalen

Hoekopstelling met eender welke hoek tussen 90° tot 180 ° mogelijk.

Bestand tegen een windbelasting tot 10 beaufort

Start -en eindpaal makkelijk te bevestigen aan een muur

Aluminium frame en einddop 20μ geanodiseerd (probleemloos bruikbaar aan de kust)

Aluminium verkrijgbaar in zilver of zwart

De planken zijn verkrijgbaar in 4 verschillende kleuren : Hazelnootbruin, Riverstone grijs, Zoethoutzwart en Leigrijs.

De maximale schermhoogte is 1,85 m: ongeveer 70 cm ingebetonneerd of plaatsing op steunvoet

Montage met onzivhtbare bevestiging.

Makkelijk te plaatsen.

Duurzaam en milieuvriendelijk.

Natuurlijk uitzicht.
Doordat de Deceuninck tuinomheining vervaardigd is uit Twinson, kan het bogen op de onderhoudsarme duurzaamheid van PVC. Deceuninck Twinson behoudt zijn sterkte en krijgt door blootstelling aan het buitenklimaat geleidelijk aan een natuurlijke tint. Het hoeft echter niet regelmatig geschilderd of gebeitst te worden. De planken zijn splijt-, splinter- en rotvrij, UV-stabiel en bestand tegen insecten. Eventuele vlekken kunnen snel en eenvoudig verwijderd worden met de schuurborstel.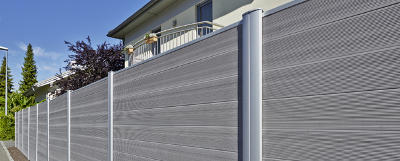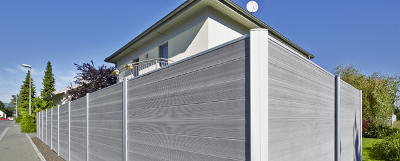 De op Twinson gebaseerde tuinomheining van Deceuninck biedt ook voordelen t.a.v. tropisch hardhout. Tropisch hardhout is nagenoeg uitsluitend afkomstig uit bedreigde regenwouden. Twinson is echter 100 % PEFC-gecertificeerd. Dat betekent dat het hout in Twinson steeds afkomstig is uit duurzaam beheerde bossen. Twinson heeft een lange levensduur, waardoor de producten probleemloos jarenlang dienst kunnen doen. Aan het einde van hun levensduur zijn ze bovendien 100 % recycleerbaar en kunnen ze zonder kwaliteitsverlies opnieuw worden gebruikt.
Schoonheid en functionaliteit gaan hand in hand
De tuinafscheiding in houtcomposiet van Deceuninck bestaat uit Twinson planken. Deze tuinschermen brengen de beste kenmerken van hout en PVC samen: het natuurlijke uitzicht en het warme gevoel van hout, en het onderhoudsgemak en de robuustheid van PVC. Onze tuinpanelen zijn veel steviger dan de meeste schuttingen. Ze bieden niet alleen beschutting tegen de wind; u kunt er ook een rustige en gezellige, discrete ruimte mee creëren, waarmee u heel eenvoudig aan nieuwsgierige blikken ontsnapt.